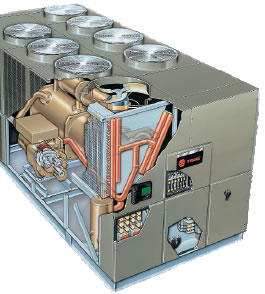 One of the most common applications used in building ventilation technology is a water-cooled system or in the professional language Chiller. The chiller is made of equipment cooling the liquid - water or ethylene glycol. Such a unit is capable of cooling a large room, even the whole building. The chiller cools the water and transfers it to the heat exchanger of the fan coil unit installed indoors or to the ventilation system. Chillers are manufactured with one or two heat exchangers. In this regard, the system uses: one heat exchanger with a two-pipes - hot and cold heat-bearing agent (from the chiller through a heat pump); two four-pipe heat exchangers. In one of them, the coolant is supplied through the chiller, and in the other, hot water is supplied through the central heating system. Water-chiller
Thanks to the use of the four-pipe system, the fan coil units function as a central heating radiator in winter.
The refrigerant circulates in the pipelines of the system using a pumping station and automation, consisting of a circulation pump, a free tank, a collector and a closed apparatus. There are types of chillers that have circulation pumps, hydraulic groups, tanks and the necessary apparatus. In modern times, a large range of chillers is produced with a capacity from several kilowatts up to several thousand kilowatts, with various design capacities, connection schemes, etc.
Chillers consist of several elements:
electrical engine

control unit

unit for expansion of the refrigerant or thermostatic evaporator (thermostat controller)

compressors

condenser

The chiller-fan coil has the following advantages:
scaled

occupies a small capacity and area

there are no restrictions in the distance (within one hundred meters) between the chiller and the internal fan coil unit

low cost of allocation

high safety level

From an economic point of view, it will be more efficient to operate (apply) existing ventilation systems in large high-rise buildings.
Installation of such systems is simple, and most importantly, through the use of several large air conditioners, the external unit will not damage the building's facade.