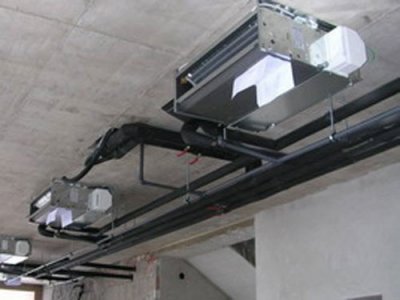 Fan coil unit is a device installed in buildings for various purposes. Its main function is regulation of air temperature. Fan coil units consist, in accordance with the rules, of a ventilation heat exchanger, a filter and a remote control.
The principle of operation of the fan coil unit is as follows. Air in premises enters the heat exchanger of the fan coil unit. There, air reaches the required temperature - it cools or heats up. The advantage of the fan coil unit is that fresh air enters it either from the central air conditioner or from the built-in unit. Installing a chiller and fan coil system helps to solve the problem of ventilation in the premises.
Fan coil unit is an analogue of the indoor unit of a split system, but it works on water. Thus, cold liquid is transferred from the chiller to the fan coil unit, which, in turn, transfers heat to the air up to the temperature necessary for these premises.
Fan coils are classified depending on power, size, construction, control method, as well as appearance.
Fan coil installation methods:
On the cassette

On the wall

On the floor

On the channel

On the floor-ceiling

On the ceiling

Any fan coil unit contains several elements. The main are as follows:
heat exchanger (a device that transfers heat from a carrier to a heated medium)

electric heater (main heating element)

fan (provides air supply)

control panel

electric motor

easily removable filter (for cleaning the incoming air)